Ghana is a great place to start a business. We will discuss some of the major benefits of starting a business in Ghana and why Ghana is a great place to do business among other African Countries.
What are the benefits of entrepreneurship in Ghana?
Investing in Africa is one of the best decisions any investor can make since there is potential to profit and grow. Ghana provides a stable and conducive business environment to break into the African business space. It is leading as one of the best destinations for doing business in Africa. There is great political stability and a friendly business environment in Ghana.
Why should you start your business in Ghana?
Below are some of the key reasons why Ghana is a great place for starting a business;
1.      Political Stability
Over the past three decades, the country has experienced great political stability. Ghana has held and completed 5 successive elections peacefully under democratic constitutional rule. There have been no major incidents of political unrest. This has contributed to making Ghana the best place to do business in Africa.
Ghana is ranked as the most stable political environment within the West African sub-region and eighth in Africa, Ghana has established democratic institutions and systems to ensure good governance and the rule of law in the country – Africa Benchmark Country Report (ABCR, 2018)
According to Global Peace Index 2022, Ghana is ranked 1st in West Africa & 2nd in Africa in terms of political peace and stability.
2.      Competitive and Business-friendly Environment
Ghana is one of the few African countries that provides a friendly and level playing ground for all businesses to compete among themselves and thrive. Public and private companies all have equal advantages to grow. This makes it easy for foreign investors to be able to invest in the country and grow without any restrictions.
In 2020, Ghana had the second-largest GDP in all of West Africa. There have been increasing efforts to diversify the economy into industries like minerals, automobiles digital technology products, and agriculture.
Ghana has identified the private sector as the catalyst for industrialization. In this light, Ghana embarked on the Structural Adjustment Programme.
The government also ensures that there are certain tax incentives that businesses enjoy for them to grow.  These incentives can be enjoyed by businesses that operate in the areas of agriculture, tourism, mining, manufacturing, and export trade. Businesses that also predominantly use local raw materials and/or produce agricultural equipment are legible to enjoy these incentives.
According to the Rand Merchant Bank report on where to invest in Africa 2021, Ghana ranked sixth place for investment attractiveness in Africa.
3.      Strong Economic Growth and Market Potential
Statista has indicated that Ghana is one of the leading economies in the African region. In 2021, Ghana was the eighth largest economy in terms of its GDP, which reached 73.36 billion U.S. dollars that year. The nation's GDP per capita was estimated at nearly 2.3 thousand U.S. dollars in 2022 and is expected to reach over 2.5 thousand U.S. dollars by 2025.
Ghana's rapid growth was between 2017 and 2019. This was a 7 percent increase per year and was halted by the COVID-19 pandemic, the March 2020 lockdown, and a sharp decline in commodity exports. In 2021, due to the dynamics of the agriculture and service sectors, there was a 5.4 percent economic growth with little contribution from the extraction sector. This is a good indicator that with the right tools and policies taken, Ghana has the potential for exponential growth to accommodate all types of businesses in the country; both local and international.
According to a report on Ghana's economic outlook by the African Development Bank Group. The banking sector remained strong in 2021 with a capital-adequacy ratio of 20.8% at the end of June 2021, nearly double the regulatory minimum of 11.5%. Poverty declined from 12% in 2020 to 11% in 2021, given GDP per capita growth of 2.3%, from a contraction of 1.7% in 2020. However, unemployment increased by 2.3 percentage points to 13.4% in 2015– 21.
GHANA ECONOMIC DATA (FocusEconomics.com)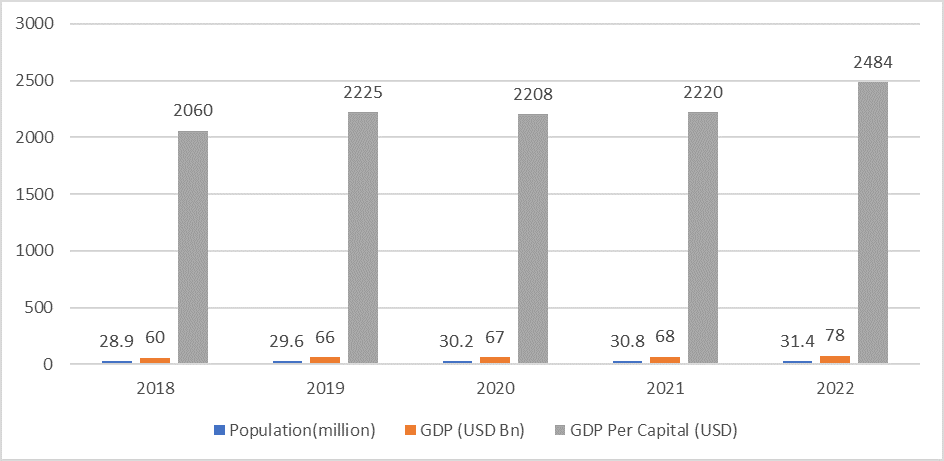 GHANA'S GDP GROWTH SINCE 2018 (Ghana Statistical Service)

Ghana Economic Outlook 2023
The economic outlook for Ghana in 2023 is expected to be positive, although global economic uncertainty may continue to pose challenges.
Ghana's economy is projected to grow by 5.8% in 2023, up from an estimated 4.1% in 2022, according to the International Monetary Fund (IMF). The growth is expected to be driven by a rebound in the non-oil sector, particularly in the agriculture, manufacturing, and services sectors. The government has put in efforts in terms of policies and programs in efforts to attract foreign investment and diversify the economy away from reliance on the oil sector to more production and manufacturing driven.
Inflation is projected to remain in single digits, with the IMF forecasting an average inflation rate of 8.4% in 2023. The government's commitment to fiscal consolidation, including implementing measures to reduce the budget deficit and debt levels, is expected to help stabilize inflation.
The exchange rate is expected to remain relatively stable in 2023, although there may be some volatility due to global economic uncertainty and changes in commodity prices. The government's efforts to maintain a flexible exchange rate regime and increase foreign exchange reserves are expected to help mitigate risks to the exchange rate.
Overall, Ghana's economic outlook for 2023 is positive, with the potential for growth in the non-oil sector and efforts to attract foreign investment and diversify the economy expected to support economic expansion.
4.      Entrepreneurial Ecosystem and Support Services in Ghana
The Ghanaian economy is structured to support new businesses to grow. Government agencies like the Ministry of Trade and Industry, Ghana Investment Promotions Centre, and other flagship programs are rolled out by various governments. All these are geared towards making Ghana the best place to start a business in Africa. There are also several trade associations and chambers in Ghana that have the direct interest of investors at heart. They put in place measures to help investors and members of their associations to start and run businesses in Ghana.
GIPC helps potential investors to acquire invitation letters and also helps prospective investors to acquire a visa to travel to Ghana. GIPC also assists investors to set up meetings with relevant government agencies and private sector associations upon request. These meetings go a long way to help investors familiarize themselves with the business climate in the country. They also help them find the right partners for their scope of business.
Private Sector Support Services
Several legal consultants are ready to hold the hands of potential investors through the process of incorporating their businesses in Ghana.  This makes kickstarting a business in Ghana relatively easy for investors. They make sure that your business is compliant with all the regulatory compliances needed to fully operate in Ghana. They offer complete support services to ensure that new companies can survive the incorporation and setting up stage of their establishment in Ghana.
In Ghana, there are several chambers and trade associations in the various sectors of the economy. Examples of these chambers and associations include; the Ghana National Chamber of Commerce and Industry (GNCCI), Ghana Chamber of Mines, Ghana Chamber of Telecommunications, Association of Ghana Industries (AGI), Delegation of German Industry and Commerce in Ghana, and many others.
These associations and chambers are formed to bring together companies and professionals from various sectors of the Ghanaian economy and other parts of the world who want to develop their business in Ghana. Some of the benefits that these associations present to businesses include the following;
                 a. Advocate for government policies to the advantage of business owners.
                 b. They provide members of the associations with vast knowledge and ideas to grow.
                 c. Networking opportunities
                 d. Exhibitions
                 e. Business Seminars
                 f. Sponsored trips
                 g. Free report publications
5.       Good Market Potential
Setting up a business in Ghana gives the investor an advantage of reaching out to the rest of ECOWAS and the African continent at large. Ghana is largely identified as the gateway to Africa. This gives investors a large market potential that they can explore. There is immediate access to the over 370m market size of the Economic Community of West African States (ECOWAS)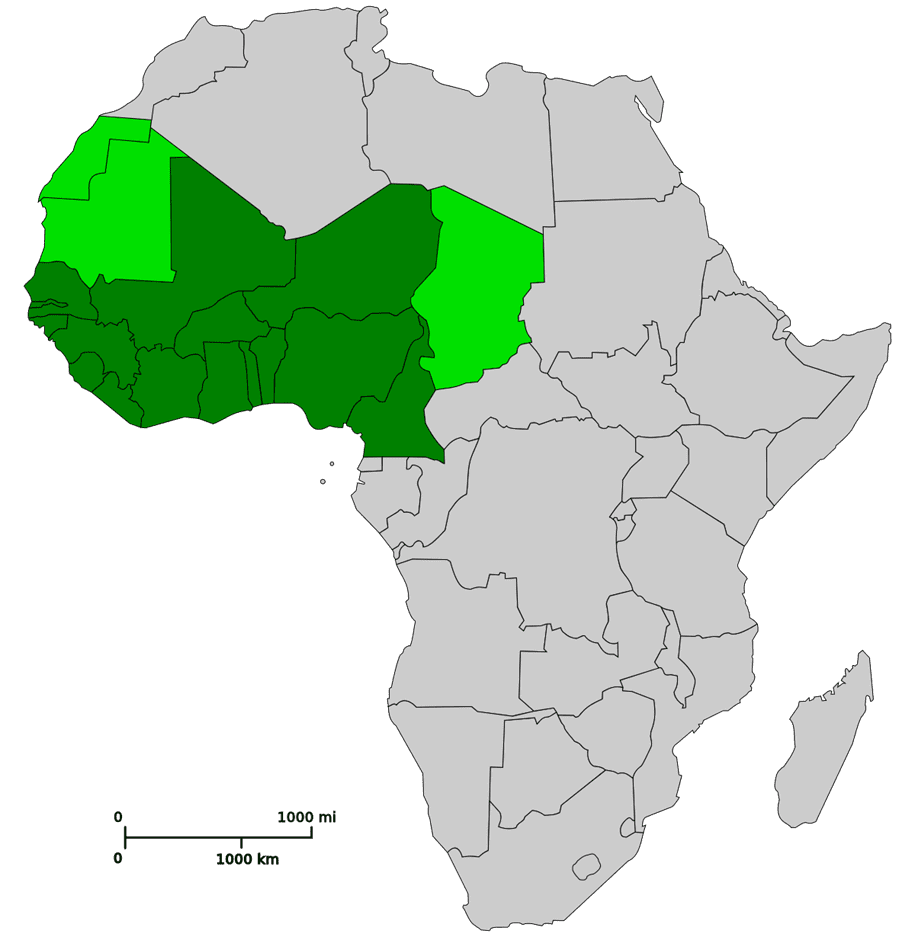 s
The ECOWAS Trade Liberalization Scheme is a tool for achieving a free trade area in the ECOWAS region. The tool consists of elements such as the rules of origin and other elements of the procedure to benefit from the ETLS. The aim is to encourage duty-free trade among ECOWAS Member States. The objective of the ETLS is to liberalize trade by abolishing customs duties levied on imports and exports and eliminating non-tariff barriers among member states for the establishment of a free trade area at the community level. This also increases the market potential of investors who are in the production industry and would like to export to neighboring countries.
According to a report by Firmus Advisory Limited on what Ghanaians are consuming, it indicated that Ghanaians are spending on everything – from food products, healthcare products, apparel, and electronics to building hardware.
Analysis of trade data for the past 9 years (2011 -2019) reveals that food commodities, vehicles, machinery, electrical appliance, and plastics are among the leading imported products classes in Ghana. The top 10 imported products (excluding minerals and oil and gas) across the years constitute over 84% of the total imports, valued at an average of GHC 23 billion each year. This is an indication of the strong market potential for investors and a wide market area to sell products and services.
6.      Skilled and Talented Workforce
One of the advantages that you may find in doing business in Ghana is the availability of a high number of educated and highly skilled youth in the country.
Ghana has one of the highest literacy rates in the West African sub-region. The adult (15 years or older) literacy rate is 80% (World Bank 2020).
These are young people who understand the latest technologies and how they can use those technologies in the work market. According to the Institute of Statistics Social and Economic Research (ISSER), over sixty thousand (60,000) individuals graduate from tertiary institutions in Ghana every year. A lot of these graduates may not immediately gain employment since there is a low capacity of industry to absorb the huge numbers.
The availability of young graduates who are ready and willing to work will give entrepreneurs and investors a very large pool of people to choose to manage the businesses that they will start in Ghana.
Competitive Labor Costs
Unemployment is a major social problem in Ghana. Due to this, the costs of labor are competitive in the country. From 1st January 2023, Ghana has revised the minimum wage. The country has increased the daily minimum wage from 13.53 cedis to 14.88 cedis.
The Ghana Statistical Service (GSS) reports that about 1.74 million (13.4 percent) of the total working population of 13 million in the age bracket of 15 years and above are unemployed.
Another major reason behind the competitive labor costs is that the cost of living in Ghana is relatively low. Citizens can afford a normal lifestyle at very reasonable prices. Investors and individuals who want to do business in Ghana can assure themselves of getting a good return on investment once they decide to do business in Ghana.
Hiring young Ghanaian executives to start and run a business in Ghana also gives the investor a cultural familiarity advantage. Ghana raises many young executives. They understand how the people of Ghana live and are familiar with the culture of the people. This helps businesses make decisions based on people's way of life.
The average educated Ghanaian can speak at least one local dialect. This also gives an advantage to businesses that have hired Ghanaian professionals to be able to interact and deal with potential local clients.
7.      Ghanaians are hospitable
Another good reason why Ghana is a great place to start a business is that the people are hospitable. The world recognizes Ghana as one of the countries with the most hospitable people. Ghanaians will welcome and support foreigners with a friendly spirit. Ghanaians also appreciate it when foreigners start businesses in the country. It gives the sign of development and also job opportunities to the youth. Investors can capitalize on this friendly nature of Ghanaians to start and grow their businesses in Ghana.
8.      Safety and Security of Life and Investment
Ghana allows for 100% foreign ownership of business in almost all sectors. However, companies registered in the extractive industry, such as mining of minerals and oil and gas, are excluded from this. A local participation clause allows Ghanaians to own at least 10% of the business.
There are no restrictions on foreigners buying, owning, and investing in land and property. This gives all investors the freedom to grow and develop their businesses in Ghana.
Individuals can go out at night to enjoy the nightlife without any fear or danger to their lives.
9.      Abundant natural resources in Ghana.
Here are a few facts about Ghana's natural resources:
a. Ghana is the No 1 gold-producing country in Africa.
b. Ghana is the 2nd largest cocoa producer in the world.
c. With an estimated reserve base of 900 million tonnes valued at $50 million in its raw state and at $400 billion refined, Ghana holds the 3rd largest bauxite reserve in Africa.
d. Ghana has Over 150 million tonnes of Iron deposits and over 60 million tonnes of Manganese.
e. Ghana produces over 189 thousand barrels of oil daily.
f. Ghana has 0.8 trillion cubic feet of natural gas reserve
g. 5million hectares of arable land
h. 4million hectares of cultivable land & 228,792 hectares of irrigable land
i. 560km of pristine coastline which is equivalent to 350 miles
Ease of doing business in Ghana.
According to the Ease of Doing Business Report 2020, Ghana ranks as one of the best places for doing business in West Africa. The country is also the best destination for investment in West Africa & 3rd on the continent (AT Kearney Global Services Location Index 2021)
The most competitive economy in the West African sub-region and 11th in Sub-Saharan Africa (World Economic Forum Global Competitiveness Index 2019)
Ghana is the 1st FDI destination in West Africa & 4th in Sub-Saharan Africa (EY Attractiveness Program, October 2018)
What are the good business opportunities to start in Ghana?
Ghana offers a variety of rewarding business opportunities and growth in business sectors. Identifying the right business opportunity is an effective way to start.
Business opportunities exist in the following areas –
I) Agriculture – farming for export; cashew, tree cropping, vegetables, poultry farming, animal farming, and fish farming.
II) Construction- development of infrastructure, and real estate.
III) Import of food and commodities
IV) Gold mining and gold export
V) Cosmetics industry – Import and sale of cosmetics, manufacture of cosmetics.
VI) Manufacturing
VII) Automobile Industry – Used and new cars, auto accessories and spare parts, motorcycles and tricycles, assembling of automobiles
Ghana at a glance
The Country – Republic of Ghana
Capital City – Accra
Official Language – English
Currency – Ghana Cedi (GHS)
Nominal GDP – US$ 68.4 billion (December 2020)
GDP Growth Rate – 6.6% (Q3 2021)
Inflation – 13.90% (February 2022)
Exchange Rate – US$ 1.00 to GHS 12 (April 2023)
Minimum Wage – GHS14.88 (January 2023)
Population – 30.8 million (provisional report, GSS, Sept. 2021)
Population Growth Rate – 2.39%
Land Size – 238, 533 sq. km
Climate Tropical General – (21-30 degrees Celsius)
Type of Government – Constitutional Democracy (Executive, President, Cabinet)
Source: https://gipc.gov.gh/why-ghana/
Conclusion
Ghana's economic potential makes it the best place in West Africa to start and grow a business. The advantage it offers to many investors includes peace, democracy, and a great gateway to the whole African continent. All the necessary structures are already in place to help businesses grow. Multinationals like Unilever, KPMG, Total Petroleum, Coca Cola have seen massive growth since their inception and have demonstrated that there is a lot more room for growth.
International businesses incorporated in the country excite Ghanaians. This provides more development and employment opportunities to the youth in the country.
As an investor, one of the best decisions that you can make to expand your business is to set up an office in Ghana.