Import Analysis, Market Demand, Key Players, and Outlook
The demand for frozen fish in Ghana has been on a steady rise for the past decade, with a 0.4% growth rate annually. Over the years, local production of fish is declining due to the depletion of Ghana's fish stocks and logistics challenges, leading to a growing dependence on imported frozen fish to supplement the market demand.
Although locally the country relies on artisanal fishers, semi-industrial fishers, and major fishing companies for its fish stocks, Ghana imports over 60% of the fish it consumes[1]. Frozen fish is imported from across the world, with a chunk of imports coming from Mauritania, Morocco, and Belgium. Historical data for the past eleven years revealed that Ghana imports an average of 325 million kgs of frozen fish annually.
Figure 1: Historical Import Trends for Frozen Fish in Ghana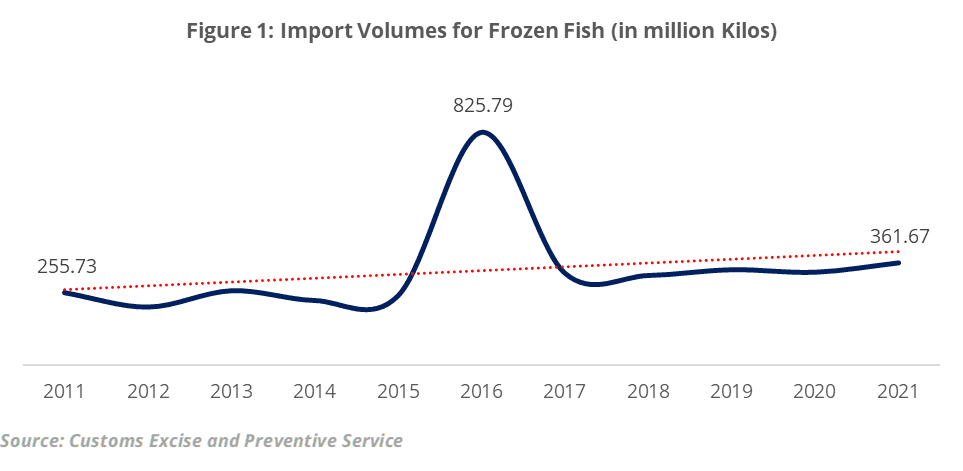 Imported frozen fish are shipped in standardized paper packages of 10kg, 15kg, 20kg, 25kg, and 30kg in weight. These weights serve as the basis for pricing for the different varieties of frozen fish available on the market. Further, a major distinguishing feature among these packages is the size of the fish which are usually expressed as; 14+, 16+, 20+, 25+, 200+, 400+, etc. depending on the individual size of each fish in a pack. However, the most prominent sizes sold in the Ghanaian market are 16+, 20+, and 25+.
Types of imported Frozen Fishes
Over 50 different types of frozen fish are imported into the country annually including Mackerel, Red Snapper, Herrings, Hake, Yellow Tail, Cassava Fish, Sprat, Dentex, Sardinella, Horse Mackerel, Bonito, Blue Fish, Tuna, and Sardine. Some of these frozen fishes: red snapper, cassava fish, etc. are usually classified as premium fishes and are priced relatively higher. Regardless of price factors, however, there are some fish types with greater demand among consumers owing to their quality; the ability to retain their taste over a long period when frozen, and their health benefits. For instance, sardines are essential to omega-3 fatty acids and Vitamin B-12.
Figure 2: Popular Imported Fish Species in Ghana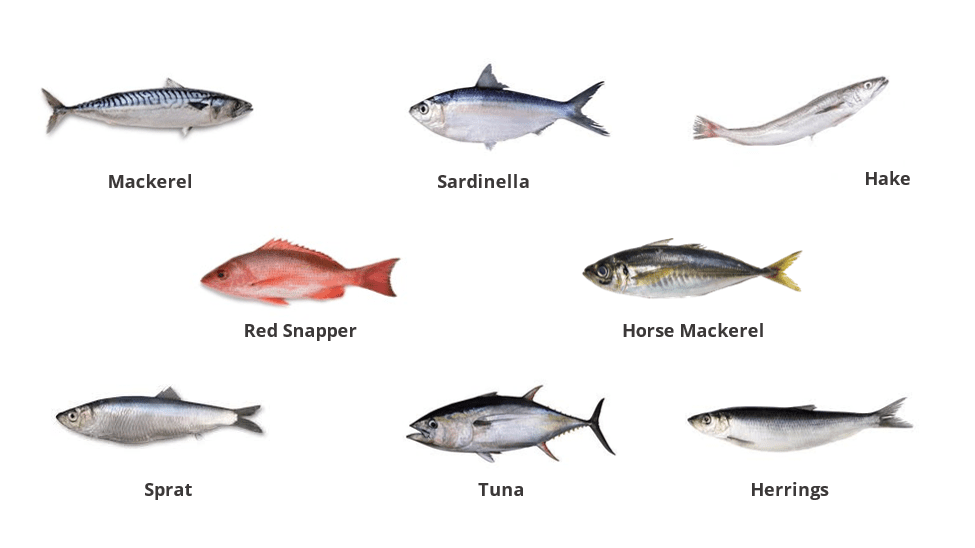 The Value Chain of the Frozen Fish Market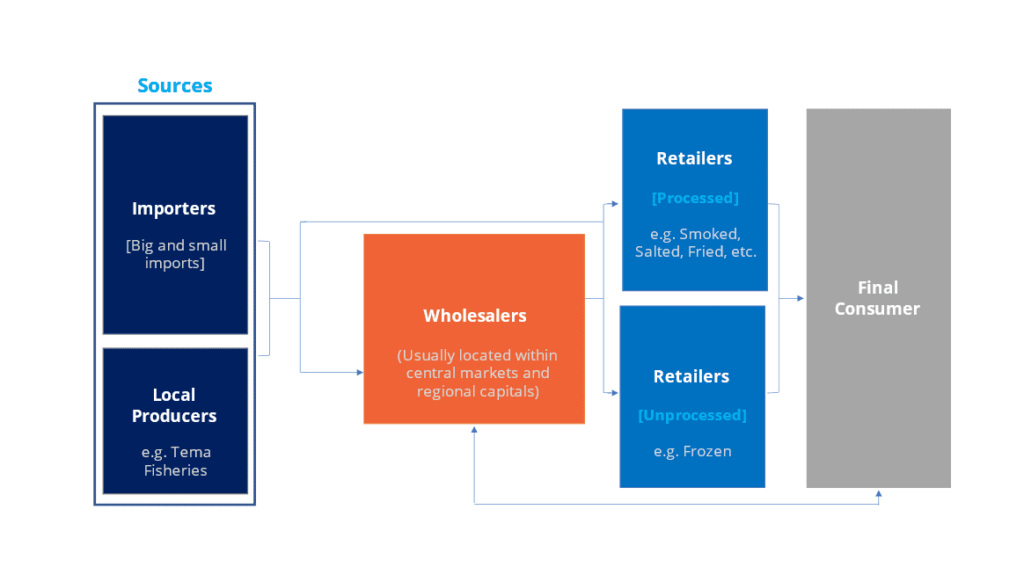 Figure 3: The Value Chain of the Frozen Fish Market
The value chain within the frozen fish market begins with the local producers and importers and ends up with the final consumer. The importers and local producers within the value chain are the primary sources of frozen fish in the market. About 60% of the frozen fish in the market are sourced from importers who import from across the world and sell either to wholesalers or directly to retailers.
The primary role of the wholesalers within the value chain is to conveniently make frozen fish available to retailers for resale and the final consumer for consumption. These wholesalers are usually located within central markets across major cities in the country. The retailers either sell the frozen fish in its raw state to final consumers in smaller quantities usually weighed in kilograms. Other retailers add value to the frozen fish and sell it to the final consumers either smoked, salted, or fried via restaurants, eateries, open markets, and other small shops. Further details on each stakeholder within the value chain are highlighted below:
Importers and Local Producers
Both importers and local producers of frozen fish are located within the main port harbour i.e. Tema and Takoradi. There are over 200 importers of frozen fish within the value chain who operate as frozen food companies, enterprises, or individuals who import in both small and large quantities. About 55% of the importers operate as frozen food companies and import an average of 1.6 million kg of frozen fish annually.
Major fisheries usually make up of local producers like Tema Fisheries and fishermen, located at the various shores of the country, who fish for different fish species including tuna, yellow tail, hake, etc. in big fishing vessels directly from the sea. There are also large and small-scale fish farmers who farm fish in ponds and lakes across the country. The predominant type of fish reared locally by fish farmers include catfish, tilapia, etc. Oftentimes, these local producers within the value chain double as wholesalers and exporters.
A typical wholesaler stocks large quantities of frozen fish sourced from importers or domestic producers in their frozen food shops. These wholesalers are located within or near central markets across cities. Wholesalers with retail customers in distant areas deliver via distribution trucks for bulk orders. Like importers, wholesalers usually sell to retailers and final consumers in cartons. Similarly, some wholesalers operate as small-scale importers who import the frozen fish they distribute but in smaller quantities.
Retailers in the frozen fish value chain are classified as processed or unprocessed, depending on the level of value added. Retailers either sell frozen fish in its processed state or unprocessed state, usually in kilograms to their final consumers. These retailers may include small cold stores, grocery shops, neighbouring shops, market women, etc.
The value chain within the frozen fish market ends with the consumer. Consumers within the value chain buy frozen fish in its raw state for cooking or processing in their various homes. Consumers purchase processed frozen fish from restaurants, food vendors, and modern and traditional trade outlets.
Top Importers of Frozen Fish in Ghana
Key importers located in the main port area, Tema, predominantly control the frozen fish market. These importers source their fish directly from various countries across the globe. A brief profile of some of the top players is provided below.
Top Players in the Frozen Fish Market in Ghana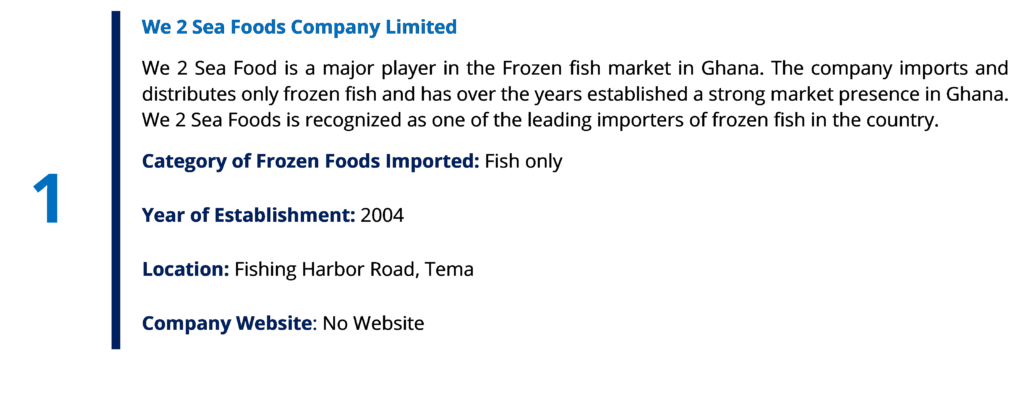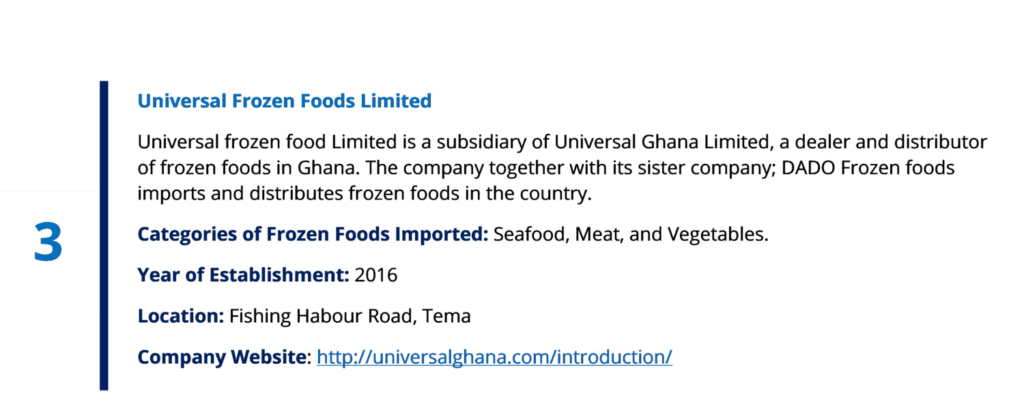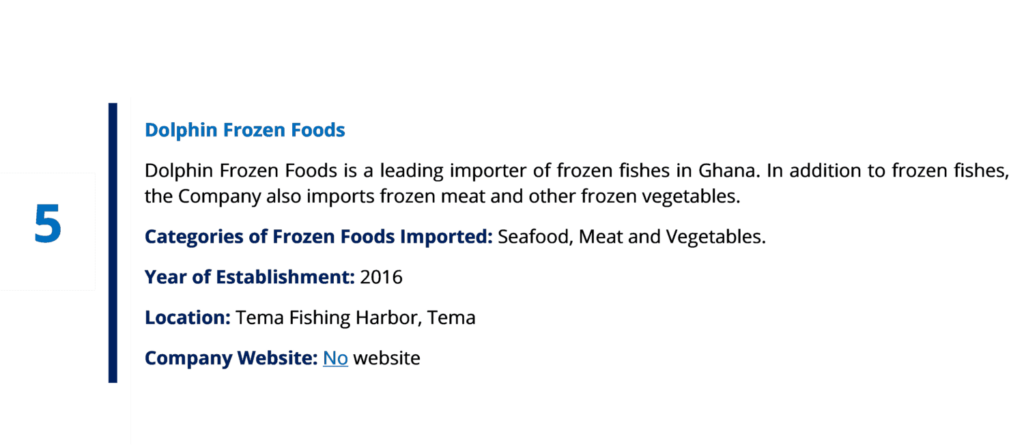 Market Outlook
Although the demand for fish in Ghana is somewhat inelastic, with a low effect of price on demand compared to other Fast-Moving Consumer Goods (FMCGs), demand is largely dependent on consumer preferences. Specifically, consumers attach a greater priority to their preferences for a particular fish species in terms of taste and satisfaction rather than to prices.
Despite the current inflationary situation in Ghana significantly affecting consumption levels for several FMCGs, we expect it to have a muted impact on the consumption of different species of fish. This is because fish continues to be a primary protein preference among Ghanaians and will remain so in the medium term.
About Firmus Advisory Limited
Firmus Advisory offers a comprehensive range of market research services including market and sector insights and customer satisfaction studies. We use market research tools to help businesses gain insights and make profitable decisions. We have extensive experience in conducting customer surveys, market research, and brand tracking for both local and international companies. Talk to us today
About the Authors

[1] Citifmonline. 2016. "Ghana Imports 60% of fish consumed." Available at Ghana imports 60% of fish consumed – Fisheries Minister – Citi 97.3 FM – Relevant Radio. Always (citifmonline.com)